Quiros king of the Earth Course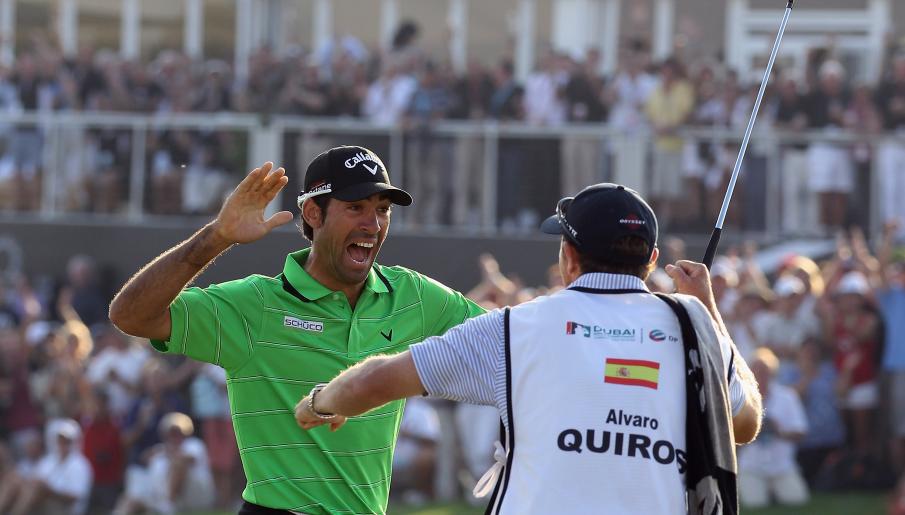 December 11th, 2011
Alvaro Quiros completed his own Dubai double as he added the Dubai World Championship presented by DP World to his Dubai Desert Classic title. The Spaniard holed a monster eagle putt on the final green to finish two shots clear of Scotland's Paul Lawrie. Quiros was two ahead of Lawrie overnight and doubled that with three opening birdies. But the Scot birdied five of the first seven and when Quiros had his third bogey at the ninth he trailed by one.
Lawrie went from rough to sand on the 12th for a bogey that brought them level again, Quiros sank a seven foot birdie putt on the long 14th and, after Lawrie had missed from similar range at the short 17th, there was one in it playing the last. The former Open Champion had eagled the 18th in the third round and Quiros had bogeyed it, but on their return the eagle came from Europe's biggest hitter for a round of 67 and 19 under par total.
Lawrie matched that score for solo second, one ahead of Luke Donald – whose 66 secured The Race to Dubai title. Peter Hanson moved into the top 15 and claimed a share of The Race to Dubai $7,500,000 bonus pool with a fourth-place finish.
"From the beginning Paul was holing every single putt that he had," said Quiros, who collected €922,645, as well as moving up to sixth in The Race to Dubai to claim a hefty share of the bonus pool. "I was trying to enjoy the moment, and fight until the end. At least if you don't win the title, you're going to be close, and that's something positive.
"In general, it was a very good day of golf between him and me, and obviously Luke at the end, who obviously wants to finish with our own party again. It's unbelievable. You can never leave behind this guy. He's always coming back. "Yesterday I heard a statistic about him about the third round, that he played 67.5. That's unbelievable. Obviously he feels very well under pressure."
Lawrie just missed out on the bonus pool, but at 18th in the final standings still enjoyed his best season on The European Tour since 2002. "I think anybody would tell you they are disappointed not to win," he said. "I probably did enough to have a chance coming down 18, and that's all you can do. Alvaro, he's got at least 250 yards uphill into the wind on 18 with a three wood off a hanging lie. Any time you make a three off that lie, he's a worthy winner.
"I've enjoyed it. I have not played here before and it's been a great week and second is better than third.
"It's a big event, it's a big field, some great players. You're talking about Luke Donald, the first person to win the Order of Merit on both sides of the Atlantic. I finished a shot ahead of Luke this week - that's massive for me."
Quiros' win has lifted him back into the Official World Golf Ranking's top 50 - all the way to 21st, in fact - just in time to secure a place in next April's Masters Tournament. Runner-up Lawrie, meanwhile, improves from 163rd to 87th.