Mikko Ilonen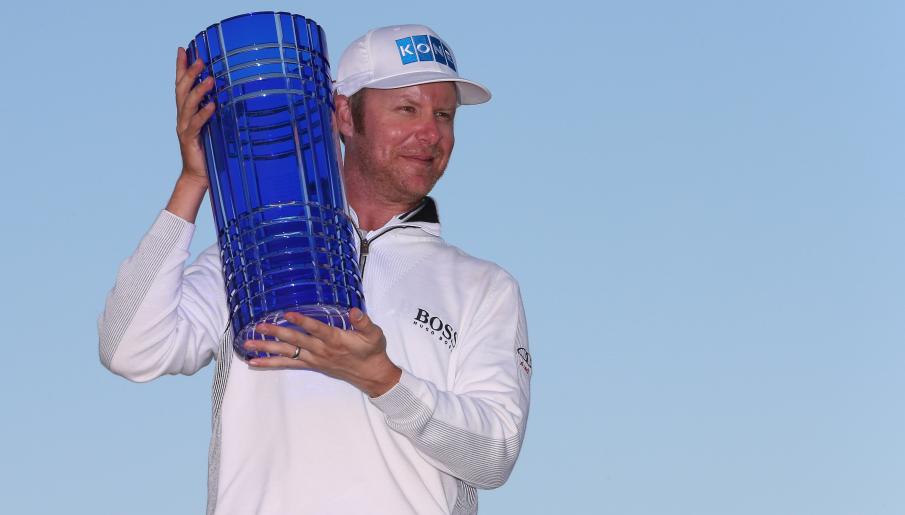 Mikko Ilonen can be described as Mr. Golf in his native country. Ilonen has been the number one golfer in Finland since 2001, longer than any other European player in their respective countries. 
Added another first to his repertoire when he became the first Finn to win the Amateur Championship at Royal Liverpool in 2000. In April 2001, Mikko – as the defending champion of the Amateur Championship – was invited to play in the Masters Golf Tournament where he got to play two rounds at Augusta with Tiger Woods. After the Masters, Ilonen turned pro. He started his professional career with a bang, as he qualified to play in the Open, and finished ninth. As the season 2001 came to its end, Mikko was 119th on the European Tour money list. This gave him a 'Tour Card' with a limited category for the 2002 season.
In 2006 he used the experience of that amateur success to full effect when he finished 16th at the same venue in The 135th Open Championship. That fine performance, allied to some sound showings at the Alfred Dunhill Links Championship, The Deutsche Bank Players' Championship of Europe and the Omega European Masters, saw him finish 112th on the Money List having played just nine events.
He became the first Finnish player to win on The European Tour with his victory at the 2007 Indonesia Open. Added further success when he won the Scandinavian Masters title to become one of seven multiple winners of the 2007 season. 2007 was a great year as he was part of European Team in the Seve Trophy, and represented Finland in the World Cup in China. That season, his earnings totaled over 1.1 million euros. Ilonen continued making history by becoming the first Finn to successfully qualify to play in the US Open in Pebble Beach (June 17–20, 2010).
Sportyard Update
21.03.19

Lahti, Finland/Stockholm, Sweden – March 21, 2019

15.09.17

Mikko made history today, September 15 2017, by making an ace on the 122 meters 14th hole of The Dutch in Spijk, The

24.05.17

The collaboration between Brother Christmas and Mikko Ilonen has already proven to be a success story.

19.10.14

October 19, 2014

22.06.14

June 22, 2014

03.06.13

June 3rd, 2013
Individual
2014

| Tournament | Position | Tour |
| --- | --- | --- |
| BMW MASTERS - 2014 | 10T | European Tour |
| Commercial Bank Qatar Masters - 2014 | 2 | European Tour |
| Irish Open - 2014 | 1 | European Tour |
| Omega Dubai Desert Classic - 2014 | 5T | European Tour |
| US PGA Championship - 2014 | 7T | European Tour, Majors, PGA Tour |
| Volvo China Open - 2014 | 8T | Asian Tour, European Tour |
| Volvo World Match Play Championship - 2014 | 1 | European Tour |
2013

| Tournament | Position | Tour |
| --- | --- | --- |
| Commercial Bank Qatar Masters - 2013 | 9T | European Tour |
| Nordea Masters - 2013 | 1 | European Tour |
| Trophée Hassan II - 2013 | 2T | European Tour |
| Volvo China Open - 2013 | 2 | Asian Tour, European Tour |
2012

| Tournament | Position | Tour |
| --- | --- | --- |
| Nordea Masters - 2012 | 3T | European Tour |
| The Irish Open - 2012 | 10T | European Tour |
2011

| Tournament | Position | Tour |
| --- | --- | --- |
| Trophee Hassan - 2011 | 7 | European Tour |
2010

| Tournament | Position | Tour |
| --- | --- | --- |
| Ballantines Championship - 2010 | 9T | European Tour |
| Omega European Masters - 2010 | 9T | European Tour |
| Portugal Masters - 2010 | 9T | European Tour |
| Trophee Hassan - 2010 | 3T | European Tour |
| Volvo China Open - 2010 | 4 | Asian Tour, European Tour |
2009

| Tournament | Position | Tour |
| --- | --- | --- |
| Madrid Master - 2009 | 2 | European Tour |
2008

| Tournament | Position | Tour |
| --- | --- | --- |
| SK Golf Challenge - 2008 | 4 | Challenge Tour |
2007

| Tournament | Position | Tour |
| --- | --- | --- |
| Barclays Scottish Open - 2007 | 8T | European Tour |
| Celtic Manor Open - 2007 | 6T | European Tour |
| Enjoy Jakarta Astro Indonesien Open - 2007 | 1 | Asian Tour, European Tour |
| Maybank Malaysian Open - 2007 | 7T | Asian Tour, European Tour |
| Scandinavian Masters - 2007 | 1 | European Tour |
2006

| Tournament | Position | Tour |
| --- | --- | --- |
| Omega European Masters - 2006 | 7T | European Tour |
| St Omer Open - 2006 | 10T | European Tour |
2005

| Tournament | Position | Tour |
| --- | --- | --- |
| Madeira Island Open - 2005 | 7T | European Tour |
2004

| Tournament | Position | Tour |
| --- | --- | --- |
| The Heritage - 2004 | 9T | European Tour |
2003

| Tournament | Position | Tour |
| --- | --- | --- |
| Dubai Desert Classic - 2003 | 6T | European Tour |
| Madeira Open - 2003 | 8T | European Tour |
2002

| Tournament | Position | Tour |
| --- | --- | --- |
| Wales Open - 2002 | 3 | European Tour |
2001

| Tournament | Position | Tour |
| --- | --- | --- |
| The Open Championship - 2001 | 9 | European Tour, Majors, PGA Tour |
2000

| Tournament | Position | Tour |
| --- | --- | --- |
| The Amateur Championship - 2000 | 1 | Other Individual |
Team
2013

| Tournament | Result | Tour |
| --- | --- | --- |
| Seve Trophy - 2013 | Won | Seve Trophy |
2007

| Tournament | Result | Tour |
| --- | --- | --- |
| Seve Trophy - 2007 | | Seve Trophy |
Awards
2014

| Tournament | Award | Tour |
| --- | --- | --- |
| Golfer of the Year award - Finnish PGA | | Other Individual |